Horus Mozarabe vit à Lisbonne, au Portugal. Il a appris et consacré sa vie à toutes les formes de danse depuis 2007. Sa formation en danse a commencé avec son amie Petra Pinto, qui lui a fait découvrir la danse orientale et toute sa culture, religion et coutumes liées. Il tombe complètement amoureux et commence son voyage. Ballet, Comtemporain, Breakdance, Thérapie par le mouvement, Classique indienne. La danse et toutes les autres formes de danse ethnique et urbaine font parti de sa routine . Dans sa formation en danse, on peux retrouver des professeurs tels que Rachel Brice, Sharon Kihara, Zoe Jakes, Lulu Sabongi, Tito Seif, Kami Liddle, Samantha Emmanuel, Illan, Carolena Nericcio, SuhailaSalimpour et bien d'autres.
Horus Mozarabe living in Lisbon, Portugal, as been learning and dedicating his life to all dance forms since 2007. His dance training started with his friend Petra Pinto, who introduced him to Bellydance and all his culture, religion and habits related. He completely falls in love with andstarts his journey. Ballet, Comteporary, Breakdance, Movement Therapy, Classical Indian Dance and all other ethnic and urban dance forms are classes in his regular basis practice. Inhis formation/influences he as names such as Rachel Brice, Sharon Kihara, Zoe Jakes, LuluSabongi, Tito Seif, Kami Liddle, Samantha Emmanuel, Illan, Carolena Nericcio, SuhailaSalimpour and many others.Traveling around the world to teach and perform is where he finds his true passion sharing hisknowledge and the away he see this art form. Alongside his dance life, Horus is finishing isdegree in Osteopathy.
STAGE FULL PASS 9H 160€
1)Sam 1er avril 11H-13H
Saturday April 1st 11:00 am-01:00 pm
Snake Charmer (2H) 40€
Dessiner des formes circulaires avec différentes parties de notre corps sera au centre de cet atelier. Nous travaillons nos muscles de manière approfondie afin obtenir cet effet si fluide si puissant tel un serpent. En résumé, les clés pour maîtriser l'art du contrôle musculaire.
Drawing circular shapes with different parts of our bodies will be the focus of this fabulous workshop. You are definitely guaranteed a deeply muscular core workout, as we will be exploring the use of our own muscles to achieve the snaky look and to do resistance training;mastering the art of muscle control. We will learn many of the hypnotic circular and swirling movements used in bellydance.
2) Sam 1er avril 14H-18H15
saturday april 1st 02pm – 06:15 pm
Dansez sur scène avec Horus / dance on stage with Horus
Deep roots, flying leaves (4H) 80€
Les racines profondes ne sont pas atteintes par le gel, plus elles deviennent profondes et fortes, plus un arbre est fort.Aimez-les si vous voulez devenir fort, n'oubliez jamais vos racines. Dans cet atelier, Horus guidera de l'âge d'or de la Belly Dance à la nouvelle ère de Tribal Fusion. Nous travaillerons avec un technique égyptienne classique comme base solide pour construire votre répertoire Tribal Fusion. Les 2 dernières heures du stage seront consacré à l'apprentissage d'une chorégraphi que vous pourrez danser sur scène avec Horus.
Deep roots are not reached by the frost, the deeper and stronger they get stronger a tree is. Like them if you want to grow strong never forget your roots. In this workshop Horus will guide you from the golden age of Belly Dance to the new era of Tribal Fusion. We will work with a classical Egyptian technique as a strong basis to build up your Tribal Fusion repertoire.During last 2 hours, we learn a choreography and you could dance on stage with horus
Inscription à 2 stages
HAFLA , samedi 1er avril 20H45
Studio Le performance 6 rue Ramonet 33000 Bordeaux
Booking 2 workshops
HAFLA Saturday April 1st ay 08:45 pm
Studio Le Revolution 6 rue Ramonet 33000 Bordeaux
3)Dimanche 2 avril 11H-14H10
Sunday April 2nd 11:00 am – 02:10 pm
Crossing trough the space 60€
Traverser tout l'espace avec élégance et fluidité dans notre danse est un défi. Alors que la fusion tribale est connue principalement pour les isolations des hanches et du haut du corps, un solide jeu de jambes est essentielle pour les déplacements et les tours, pour maintenir une ligne de corps nette et pour s'assurer que les transitions s'effectuent en toute confiance et avec grâce.
Crossing over all the dance space with elegance and fluidity in our dance is a challenge. Whiletribal fusion is known primarily for isolations of the hips and upper body, solid footwork technique is essential for travel moves and turns, and to maintain a clean body line and ensure that transitions flow confidently and with grace and ease. In this class, Horus will guide you through footwork as both a foundation and a finishing detail, illustrating how elements combine to transform weight changes into full lush movements.
INSCRIPTION / BOOKING
Virement bancaire ou Paypal alinaboullay@gmail.com ou Par courrier Alina BOULLAY 45 rue Abbée Bellemer 33390 Blaye (possibilité de payer en 3 fois)
Bank Transfert or paypal lacomedietribale@gmail.com (you could pay your spot in 3 times)
email lacomedietribale@gmail.com tel (whatsapp) +33681787307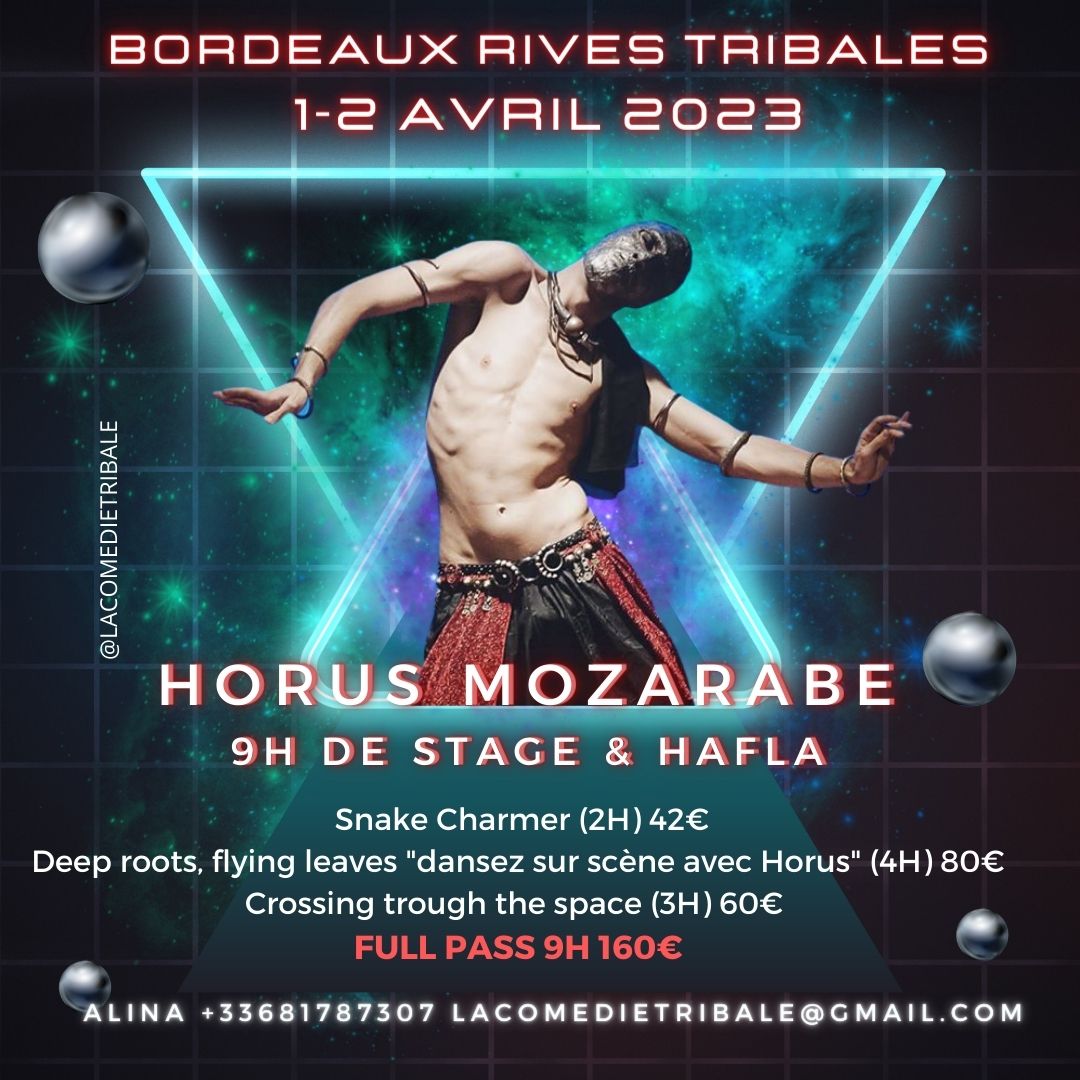 avril 1 @ 10:30 — avril 2 @ 18:30
Le performance 6 rue Ramonet 33000 Bordeaux